Specialty Items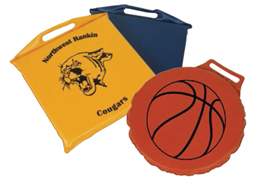 Stadium Cushions
The quality vinyl construction, thick cushion and carry handle
make these Stadium Cushions great giveaways for sports
teams. Use one side for advertising space and sell ads to
raise money for the team. Cushions can be decorated on
both sides with silk-screening.
• Price based on French Calf or Suedene vinyl
• Cushion is 1 5/8" thick
• Maximum imprint size is 12" x 12"
Stadium Cushions
| PRODUCTS | DESCRIPTION | 100 | 250 | 500 | 1000 | 2500 | 5000 |
| --- | --- | --- | --- | --- | --- | --- | --- |
| V C100 | Square Cushion | | | | | | |
| VC200I | Round Cushion | | | | | | |
| PKT | 1/2 Pocket (ADD) | | | | | | |
| AS1 | 1-Color Silk-screen (ADD) | | | | | | |
| AS2 | 2-Color Silk-screen (ADD) | | | | | | |
| AS3 | 3-Color Silk-screen (ADD) | | | | | | |
Round Stadium Cushions
| PRODUCTS | DESCRIPTION | 100 | 250 | 500 | 1000 | 2500 | 5000 |
| --- | --- | --- | --- | --- | --- | --- | --- |
| VC 200 | I Round Cushion | | | | | | |
| PKT | 1/2 Pocket (ADD) | | | | | | |
| AS1 | 1-Color Silk-screen (ADD) | | | | | | |
| AS2 | 2-Color Silk-screen (ADD) | | | | | | |
| AS3 | 3-Color Silk-screen (ADD) | | | | | | |