Vinyl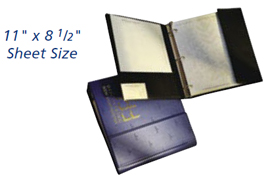 Wraparound Vinyl Ring Binders
The Wraparound Vinyl Ring Binder has a vinyl flap with a Velcro closure
that keeps all the contents in place and protected. These binders can
be customized by silk-screening or foil stamping your artwork.
Specifications:
• Includes a 5" horizontal inside front pocket and a
Velcro closure on the flap.
wraparound vinyl ring BINDERS
| PRODUCTS | CAPACITY | 50 | 100 | 250 | 500 | 1000 | 2500 | 5000 |
| --- | --- | --- | --- | --- | --- | --- | --- | --- |
| V 101 3220 | 1/2" Round Ring | | | | | | | |
| V 103 900 | 1" Round Ring | | | | | | | |
| V 104 1073 | 1 ½" Round Ring | | | | | | | |
| V 105 914 | 2" Round Ring | | | | | | | |
| V 106 2362 | 2 ½" Round Ring | | | | | | | |